http://www.last.fm/download/
http://www.last.fm/dashboard/
Downloads
Download Last.fm
Change platform:
Microsoft Windows Linux Apple Mac OS X
Compatible with Windows XP and Vista.
If you use an earlier version of Windows, you can try the old Audioscrobbler Plugins.
Click here for our svn repositories.
All downloaded? Follow these easy installation instructions.
What's it all about?
With Last.fm on your computer you can scrobble(?) your tracks, share your music taste, listen to personalised radio streams, and discover new music and people.
Last.fm is open source software and contains no spyware / adware. (We hate that stuff as much as you do.)
Also, if you use Skype, you can use Last.fm to set your Skype mood message to the track you're currently listening to.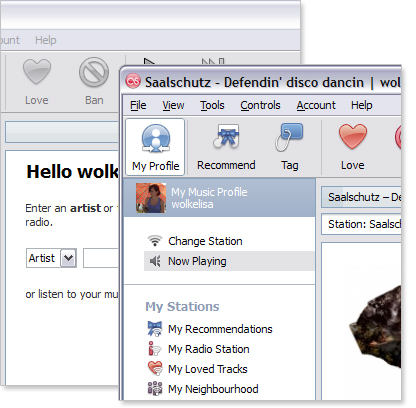 Source Code
The Last.fm software is Open Source (GPL)
Programmers can download the source code from our Subversion repository here:
svn://svn.audioscrobbler.net/clientside/Last.fm (grab latest version)
Interested in developing new player plugins? Our Win32 ScrobSub library can be found here:
svn://svn.audioscrobbler.net/clientside/plugins/ScrobSub
Source Tarball: last.fm-1.4.0.56102.src.tar.bz2